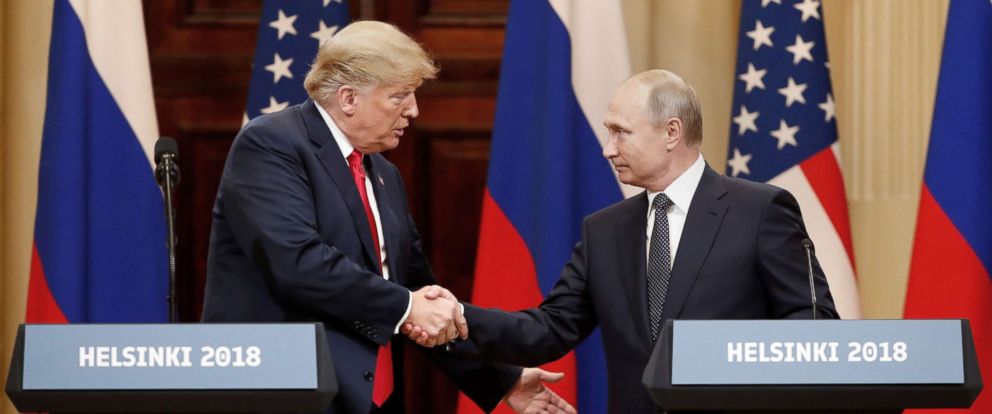 When living with a narcissist, or under a narcissistic president, victims (citizens) often become numb.
Hopeless—at least until it becomes a fight for their lives.
Because the narcissist is so good at gaslighting, that he or she (yes, there are plenty of women narcissists) gathers a gaggle of groupies and easily convinces said groupies to punish and pummel the victims with whatever lies they've been fed, whereupon the victim ends up feeling crazy and helpless.
And alone.
Here in America those who see the so-called president for what he is are far from alone. Yet we are accosted on a daily basis with lies, misdirection, and outright villainy by a government that has now proven itself to be nothing more than a puppet to Russia.
Even though after Helsinki this fact can no longer be dismissed for conjecture, we still have to put up with family and friends who say ridiculous things like "The media is to blame." Or "Hillary's emails." Or "Barack Obama was a socialist dictator."
None of which make sense OR does a thing to stop the fascist progression of our country.
Maybe those who hide and bury their heads in the sand do so because they feel hopeless and helpless, and, look, I totally get that. I've gone to DC to protest three times, made the phone calls, facebook posts and tweets, and signed a bazillion petitions, and yet it's not nearly enough. I still feel like a slacker and need to do more.
Because after Helsinki, everyone in America who isn't a white supremacist SHOULD HAVE THEIR EYES WIDE OPEN.
The man TOLD US EXACTLY WHAT HE IS.
The man betrayed America to our enemies. The man BLATANTLY SOLD US DOWN THE RIVER FOR THE WHOLE WORLD TO SEE.
And what I want to know is, WHO ARE WE? WHO ARE YOU?
He showed himself to be the traitor that he is. And if you aren't, if our elected representatives aren't, standing as ONE AMERICA to say this treasonous fool must go, then each and every one of you are complicit as well.
Trump took an oath to uphold our constitution, and he has failed in that oath, and must be removed from office. He has proven that he doesn't hold the best interests of our country over himself repeatedly, but never more clearly has he shown that he puts Russia before us than he did in Helsinki.
My favorite quote from the articles I've read is as follows: "The fact is that [Trump]'s behaving like a controlled spy," he said. "If all signs are that there's a fox in the chicken coop, then don't think that there was probably a lightning bolt — there's probably a fox in the chicken coop."—Glenn Carle
Did you know that foxes don't just kill one chicken and leave the rest? Nope. They kill them all.
I spoke to a girl who runs a local farm, where chickens run through the field and are bedded inside two mobile henhouses for protection each night. She told me they'd recently lost about 20 chickens that they couldn't find the night before, and all 20 had been slain by a fox or foxes, yet not eaten.
These poor chickens were demolished and left where they lay to be discovered the next morning. Apparently foxes go into a murderous frenzy and kill everything—but then only take one to eat and leave the rest behind.
The U.S. is the henhouse.
Trump and Putin are the foxes.
And THEY ARE INSIDE.
Dig your heads out of the sand and stand up. Please. And for God's sake, vote this November. It's never been more crucial.
P.S. For those of you who come here for animal issues, consider this: Animals are nothing in Trump's America. Do you really think those who cage kids at the border give a rat's ass about protecting a dog on a chain? Come on. Even if your hands are full with rescued and dumped animals, make sure you vote these folks out this year, if you ever want a chance for better lives for the animals.